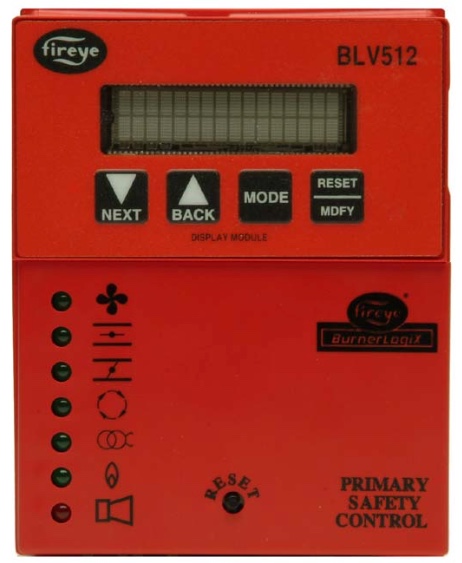 ZB110UV
Burnerlogix Z model. Intergrated burner and boiler control. For steam and hot water boilers
The Fireye® BurnerLogixTM Z System expands on the standard BurnerLogix Y System (see bulletin BL-1001) by combining boiler control functions with the same burner management control found in the Y system. The result is a single compact package that can directly control the boiler's output firing rate based on either input pressure or temperature or both. The BurnerLogix Z System is designed to provide the proper burner sequencing, ignition and flame monitoring protection on automatically ignited oil, gas, and combination fuel burners. Through the display, the operator programs the desired setpoint, cut in, cut out and modulating range and with PID control, the BurnerLogix Z System controls the burner/boiler from start up through shutdown, precisely maintaining the desired setpoint. The BurnerLogix Z System continuously monitors interlocks and limits found in the L1-3 and 3-P circuits as it programs the burner/blower motor, ignition and fuel valves to provide for proper and safe burner operation. VFD and LCD displays are available that may be either plugged in or mounted remotely to give full language descriptors of current status and diagnostic lockout information as well as provide a user friendly menu system to make setting the boiler parameters easy and understandable. When mounted remotely, the displays provide NEMA 4x(IP66) protection. Through SMART LED'S, located on the front cover or through the display interface, the control provides current operating status and lockout information in the event of a safety shutdown
Operating Control Function for automatic sequencing of the boiler system to start and stop the boiler to meet system demand.
Full Modulation Control of fuel and combustion air through the firing rate motor to meet sys- tem demand.
Solid State Sensors to monitor steam pressure, water temperature, stack temperature, boiler water temperature, or outdoor air temperature.
High Pressure and Temperature Alarm Limits based on inputs from solid state sensors. Exceeded limits will open interlock circuit to the flame safeguard control for shutdown of the burner and boiler.
Cold Start Thermal Shock Protection to slowly increase the burner firing rate on a cold start to limit mechanical stress due to thermal differences.
Multiple Lead/Lag operation of two or more boilers.
User-friendly keypad display system in either VFD or LCD format featuring the all-info dis- play mode, program and review of system setpoints and operating parameters.
Remote Communication Capability allows reading and writing of all setpoint information. Password Protected Parameters (two levels of security) to restrict unauthorized entry and modification of system setpoints and operating parameters.
| | | |
| --- | --- | --- |
| Z MODULE CHASSIS (INCLUDES AMPLIFIER) |   |   |
| ZB110UV | Chassis, 120 VAC, 50/60 Hz with burner control functions, contains UV non self-check amplifier | BLZ-1001 |
| ZB110UVSC | Chassis, 120 VAC, 50/60 Hz with burner control functions, contains UV self-check amplifier | BLZ-1001 |
| ZB110IR | Chassis, 120 VAC, 50/60 Hz with burner control functions, contains IR Autocheck amplifier | BLZ-1001 |
| ZB110IR2 | Chassis, 120 VAC, 50/60 Hz with burner control functions, contains high sensitivity IR Autocheck amplifier. Special application only, consult factory. | BLZ-1001 |
| ZB230UV | Chassis, 230 VAC, 50/60 Hz with burner control functions, contains UV non self-check amplifier | BLZ-1001 |
| ZB230UVSC | Chassis, 230 VAC, 50/60 Hz with burner control functions, contains UV self-check amplifier | BLZ-1001 |
| ZB230IR | Chassis, 230 VAC, 50/60 Hz with burner control functions, contains IR Autocheck amplifier | BLZ-1001 |
| ZB230IR2 | Chassis, 230 VAC, 50/60 Hz with burner control functions, contains high sensitivity IR Autocheck amplifier. Special application only, consult factory. | BLZ-1001 |
| Z MODULE PRESSURE SENSORS |   |   |
| BLPS-15 | Pressure transducer, 0-15 psi (0-1030 mb), 4-20 mA output linear with pressure. ¼" NPT mounting. Screw terminal connections and conduit adapter cover. | BLZPTS-1 |
| BLPS-30 | Pressure transducer, 0-30 psi (0-2070 mb), 4-20 mA output linear with pressure. ¼" NPT mounting. Screw terminal connections and conduit adapter cover. | BLZPTS-1 |
| BLPS-200 | Pressure transducer, 0-200 psi (0-13.8 Bar), 4-20 mA output linear with pressure. ¼" NPT mounting. Screw terminal connections and conduit adapter cover. | BLZPTS-1 |
| BLPS-300 | Pressure transducer, 0-300 psi (0-20.7 Bar), 4-20 mA output linear with pressure. ¼" NPT mounting. Screw terminal connections and conduit adapter cover. | BLZPTS-1 |
| Z MODULE TEMPERATURE SENSORS |   |   |
| TS350-2 | Temperature sensor, Range 32°F to 350°F (0°C to 176°C), 4-20 mA output, linear with temperature. Insertion length is 2 inches. Stainless steel thermowell included with 1/2" - 14 NPT mounting. | BLZPTS-1 |
| TS350-4 | Temperature sensor, Range 32°F to 350°F (0°C to 176°C), 4-20 mA output, linear with temperature. Insertion length is 4 inches. Stainless steel thermowell included with 1/2" - 14 NPT mounting. | BLZPTS-1 |
| TS350-8 | Temperature sensor, Range 32°F to 350°F (0°C to 176°C), 4-20 mA output, linear with temperature. Insertion length is 8 inches. Stainless steel thermowell included with 1/2" - 14 NPT mounting. | BLZPTS-1 |
| TS752-2 | Temperature sensor, Range 32°F to 752°F (0°C to 400°C), 4-20 mA output, linear with temperature. Insertion length is 2 inches. Stainless steel thermowell included with 1/2" - 14 NPT mounting. | BLZPTS-1 |
| TS752-4 | Temperature sensor, Range 32°F to 752°F (0°C to 400°C), 4-20 mA output, linear with temperature. Insertion length is 4 inches. Stainless steel thermowell included with 1/2" - 14 NPT mounting. | BLZPTS-1 |
| TS752-8 | Temperature sensor, Range 32°F to 752°F (0°C to 400°C), 4-20 mA output, linear with temperature. Insertion length is 8 inches. Stainless steel thermowell included with 1/2" - 14 NPT mounting. | BLZPTS-1 |
| WIRING BASE - Z MODULE |   |   |
| 60-2850-1 | Pigtail wires, 4 foot long, 4"W x 5"H, color coded and labeled. | 133-701 |
| 60-2852-1 | Closed base with terminal block and knockouts, 4"W x 7"H | 133-702 |
| 60-2854-1 | Open base with terminal block. 4"W x 7"H | 133-702 |