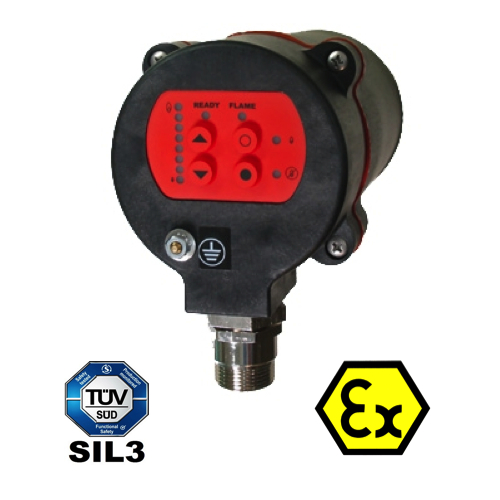 85UVF1-1DQ
Fireye Phoenix scanner | Low cost SIL3 flame scanner for the process industry.
The Fireye Phoenix type 85UVF/IRF flame scanners are microprocessor based devices utilizing a solid state flame detection sensor. The Phoenix flame scanners incorporate an internal flame relay with automatically set ON/OFF thresholds, thereby eliminating the need for a remote flame amplifier or flame switch.
Phoenix scanners detect the amplitude of the modulations (the flame "flicker") that occur within the targeted flame, over a wide frequency. During the scanner setup procedure, the amplitudes of the target flame are automatically stored by the flame scanner, together with optimum ON/OFF criteria. The appropriate sensor gain is automatically selected. Phoenix scanners incorporate full self diagnostics and electronic self checking. 
Markets Served
Process, CHP and Gas turbine
Fuel Types
All
Special features
This industrial flame detector is available with UV, IR or visible light detection cells and can be completely setup in under 2 minutes. Special Gas turbine version available.
Can be used with fibre optic.
Cooling kit available.
Features
24VDC Powered
UV IR or VIS Solid state Cell
solid state self check for continuous use
1 X SPST Flame on relays
1 x SPST Fault relay
1 x 4-20mA flame quality outputs
Auto learn on and off
Quick disconnect cables
1" BSP or NPT connection
Approved for use in SIL3 Installations 
Atex Zone 2 /22 as standard
Available in Zone 1 / 21 enclosure
| | | |
| --- | --- | --- |
| PHOENIX FLAME SCANNER | DESCRIPTION | MANUAL |
| 85UVF1-1QD | Phoenix Integrated Scanner, selectable FFRT - Ultra-violet, with quick disconnect.  Use 59-546-xx cable. FM, UL/c, CE Approved. | CU-114 |
| 85UVF1-1QDK3 | Phoenix Integrated Scanner, selectable FFRT - Ultra-violet, with quick disconnect and K3 filter. Use 59-546-xx cable.  FM, UL/c, CE Approved. | CU-114 |
| 85UVF4-1QDK3WR | Phoenix Integrated Scanner, Selectable FFRT - Ultra-violet, with quick disconnect and K3 filter. Use 59-546-xx cable. For use with EDC1, EDC2, MEDC2, YB110DC or YB230DC direct coupled amplifiers. FM, UL/c Approved. | CU-114 |
| 85UVF4-1QDWR | Phoenix Integrated Scanner, Selectable FFRT - Ultra-violet, with quick disconnect. Use 59-546-xx cable. For use with EDC1, EDC2, MEDC2, YB110DC or YB230DC direct coupled amplifiers. FM, UL/c Approved. | CU-114, 133-732, 133-733 |
| 85IRF1-1QD | Phoenix Integrated Scanner, selectable FFRT - Infrared, with quick disconnect. Use 59-546-xx cable. FM, UL/c, CE Approved. | CU-114 |
| 85IRF4-1QDWR | Phoenix Integrated Scanner, Selectable FFRT - Infra-red, with quick disconnect. Use 59-546-xx cable. For use with EDC1, EDC2, MEDC2, YB110DC, or YB230DC direct coupled amplifiers. FM, UL/c Approved. | CU-114, 133-732, 133-733 |
| EXPLOSION PROOF SCANNERS | DESCRIPTION | MANUAL |
| 85UVF1-1CEX | Cenelec EExd IIC T6, ATEX approved housing with 85UVF1-1 scanner. CE Approved. Mounting flange ordered separately. | CU-114 |
| 85UVF1-1CEX-K3 | Cenelec EExd IIC T6, ATEX approved housing with 85UVF1-1K3 scanner. CE Approved. Mounting flange ordered separately. | CU-114 |
| 85IRF1-1CEX | Cenelec EExd IIC explosion proof housing with 85IRF1-1 scanner. CE Approved.  | CU-114 |
| 60-2780-1 | Replacement scanner for 85UVF1-1CEX | CU-114 |
| 60-2780-3K3 | Replacement scanner for 85UVF1-1CEX-K3 | CU-114 |
| 60-2780-5 | Replacement scanner for 85IRF1-1CEX | CU-114 |
| FIBER OPTIC SCANNERS | DESCRIPTION | MANUAL |
| 85UVF1-2QD | Fiber-optic version of Phoenix Integrated Scanner, selectable FFRT - Ultra-violet, with quick disconnect. Use 59-546-xx cable. FM, UL/c, CE Approved. | CU-114, CU-115 |
| 85UVF1-2QDK3 | Fiber-optic version of Phoenix Integrated Scanner, selectable FFRT - Ultra-violet, with quick disconnect and K3 filter.. Use 59-546-xx cable. FM, UL/c, CE Approved. | CU-114, CU-115 |
| 85UVF4-2QDWR | Fiber optic version of Phoenix Integrated Scanner, Selectable FFRT - Ultra-violet, with quick disconnect. Use 59-546-xx cable. For use with EDC1, EDC2, MEDC2, YB110DC or YB230DC direct coupled amplifiers. FM, UL/c Approved. | CU-114, CU-115, 133-732, 133-733 |
| 85UVF4-2QDK3WR | Fiber optic version of Phoenix Integrated Scanner, Selectable FFRT - Ultra-violet, with quick disconnect and K3 filter. Use 59-546-xx cable. For use with EDC1, EDC2, MEDC2, YB110DC or YB230DC direct coupled amplifiers. FM, UL/c Approved. | CU-114 |
| 85IRF1-2QD | Fiber-optic version of Phoenix Integrated Scanner, selectable FFRT - Infrared, with quick disconnect. Use 59-546-xx cable. FM, UL/c, CE Approved. | CU-114, CU-115 |
| 85IRF4-2QDWR | Fiber optic version of Phoenix Integrated Scanner, Selectable FFRT - Infrared, with quick disconnect. Use 59-546-xx cable. For use with EDC1, EDC2, MEDC2, YB110DC or YB230DC direct coupled amplifiers. FM, UL/c Approved. | CU-114, CU-115, 133-732, 133-733 |
| ACCESSORIES | DESCRIPTION | MANUAL |
| 35-318-1 | Mounting flange for 85UVF / 85IRF scanner, 1" NPT | CU-105 |
| 35-318-2 | Mounting flange for 85UVF / 85IRF scanner, 1" BSP | CU-105 |
| 129-182-1 | 1" NPT mounting flange for Paragon and Phoenix QD scanner | CU-108 |
| 129-182-2 | 1" BSP mounting flange for Paragon and Phoenix QD scanner | CU-108 |
| 129-168-1 | Mounting flange kit for -CEX version of InSight I/Phoenix/Simplicity scanners, 1" NPT | - |
| 129-168-2 | Mounting flange kit for -CEX version InSight I/Phoenix/Simplicity scanners, 1" BSP | - |
| 129-195-1 | 1" NPT aluminum mounting flange for Phoenix scanner. | - |
| 129-195-2 | 1" BSP aluminum mounting flange for Phoenix scanner. | - |
| 60-2720 | Vortex tube kit for high ambient temperature applications. | CU-103 |
| 60-2956 | K3 Filter Assembly | - |
| 97-1058 | Heat Insulating Jacket for -CEX version of 45UV5 / 45RM4 / 45FS1 / 85 series / InSight I series flame scanners. | CU-103 |
| 97-1067 | Heat Insulating Jacket for Phoenix scanners. | CU-103 |
| CABLES | DESCRIPTION | MANUAL |
| 59-546 | 8 conductor cable for Phoenix and InSight II scanner. Rated for ITC-ER and PLTC-ER. | - |
| 59-546-3 | Factory wired cable assembly (59-546) for InSight II and Phoenix quick disconnect version. 3 meters / 10 ft. | 133-739 |
| 59-546-4 | Factory wired cable assembly (59-546) for InSight II and Phoenix quick disconnect version. 4 meters / 120 ft. | 133-739 |
| 59-546-6 | Factory wired cable assembly (59-546) for InSight II and Phoenix quick disconnect version. 6 meters / 20 ft. | 133-739 |
| 59-546-9 | Factory wired cable assembly (59-546) for InSight II and Phoenix quick disconnect version. 9 meters / 30 ft. | 133-739 |
| 59-546-12 | Factory wired cable assembly (59-546) for InSight II and Phoenix quick disconnect version. 12 meters / 40 ft. | 133-739 |
| 59-546-15 | Factory wired cable assembly (59-546) for InSight II and Phoenix quick disconnect version. 15 meters / 49 ft. | 133-739 |
| 59-546-30 | Factory wired cable assembly (59-546) for InSight II and Phoenix quick disconnect version. 30 meters / 98 ft. | 133-739 |
| 59-546-45 | Factory wired cable assembly (59-546) for InSight II and Phoenix quick disconnect version. 45 meters / 148 ft. | 133-739 |
| 59-546-60 | Factory wired cable assembly (59-546) for InSight II and Phoenix quick disconnect version. 60 meters / 197 ft. | 133-739 |
| 59-546-90 | Factory wired cable assembly (59-546) for InSight II and Phoenix quick disconnect version. 90 meters / 295 ft. | 133-739 |
| POWER SUPPLIES | DESCRIPTION | MANUAL |
| 60-2685-2 | Power Supply, 24 VDC, 2.1 A, 120 / 240 VAC for 65UV5 / 85UVF / 95UV5 scanners. OBSOLETE - Replace with 60-2685-25 | CU-100 |
| 60-2685-4 | Power Supply, 24 VDC, 4.2 A, 120 / 240 VAC for 65UV5 / 85UVF / 95UV5 scanners. Consult factory for availability | CU-100 |
| 60-2685-25 | Power Supply, 24 VDC, 2.5 A, 120 / 240 VAC for 65UV5 / 85UVF / 95UV5 scanners.  | CU-118 |
| 60-2685-50 | Power Supply, 24 VDC, 5.0 A, 120 / 240 VAC for 65UV5 / 85UVF / 95UV5 scanners. | CU-118 |